All circulation takes place on the decks outside (this was strategic due to limitations on impervious cover) and also obliges interaction with the elements.
The polygal awning wraps the building to protect the doors and windows, as well as pedestrians below. During a central Texas thunderstorm, raindrops create the soothing background sound of a muffled snare drum.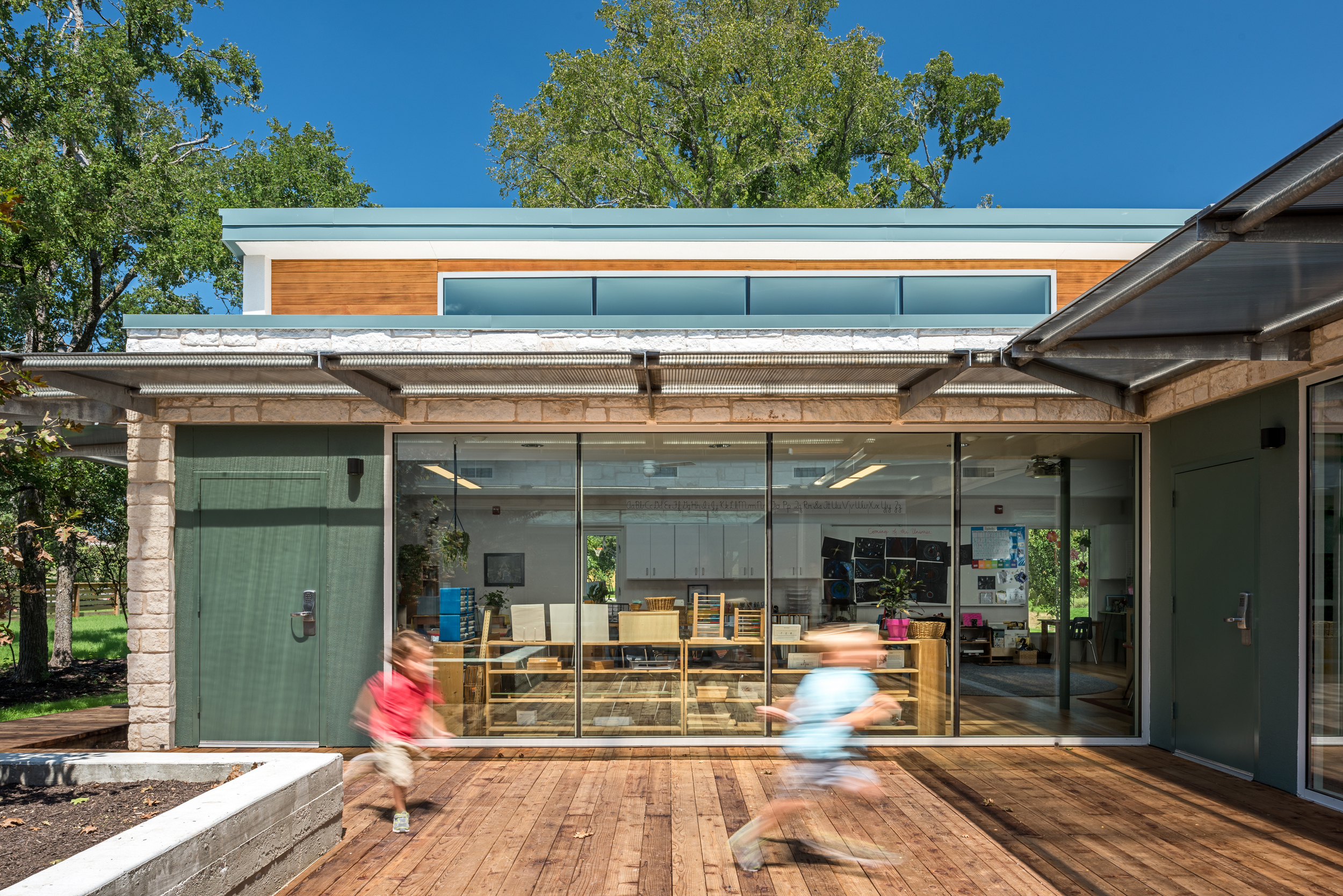 The main circulation path is broad enough to be thought of like an avenue and can accommodate gatherings and spontaneous play.
Clerestory lights open up the ceiling and lift one's eyes to the tree canopies and clouds above.
During early morning and early evening hours, the warm lighting offers a friendly environment for sleepyheads.
Sharp shadow lines with gentle contrast provided by the translucent awning.
During the opening celebration, one of the teachers mentioned at that she had yet to turn the lights on during school hours.
From the beginning, the courtyard was intended to be an extension of the classroom space. Inside and outside blend seamlessly.
The courtyard is warmly lit during evening hours and is nestled by the protective walls of the Mission-inspired facade.
Shadow play with limestone, galvanized outriggers, and the translucent polygal awning.
This shot helps to illustrate the shadow play of the awning on the split-face limestone.
The existing building (not pictured) adjacent to this one is a Texas Hill Country-styled former daycare center. It has a hipped roof and limestone walls. The intention is for that building to remain an integral part of the campus.
The classrooms are all directly connected with oversized doors to give the teachers the option of expanding the spaces into each other. When it is time to focus, teachers can close the doors, and isolate each space.
Strong lines of symmetry govern the layout of the classroom spaces.
A mid-morning moment at the Khabele Elementary School.